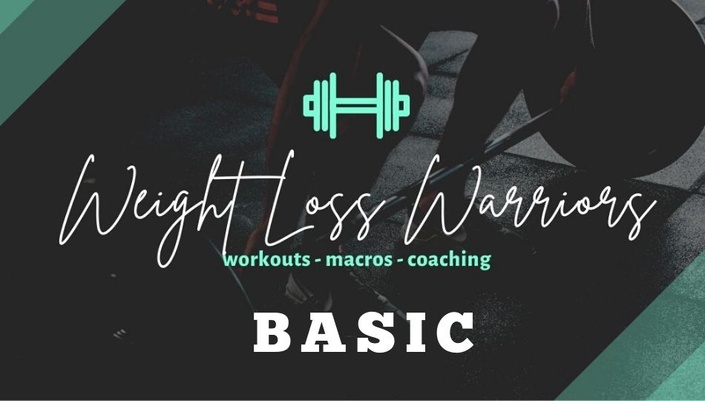 Weight Loss Warriors Basic
Weekly Weight lifting Plans, Nutrition Lessons, & More!
Weight Loss Warriors Basic is your go-to exercise program fused with nutrition lessons, educational resources, mindset work, and an awesome community.

WLW is the perfect place to get support, workout routines, mindset exercises, and additional resources to support you in your fat loss journey, for a fraction of the cost of traditional 1:1 coaching!

Weight Loss Warriors Basic will:
Give you a sense of consistency and direction in the gym or at home with dumbbells

Teach you how to train with intention for fat loss results

Enhance your understanding of dieting and training

Challenge you to step up your workout game and stick with it

Give you a supportive, drama-free community to share your journey with

Encourage you to dig deeper mentally and physically, to grow into a better you!

Give you access to exclusive resources from Leah to improve your wellness
How it works:
Every 7 days, starting the day you enroll, you will receive a new week of weight lifting workout (5 per week, each take about 45 minutes). These workouts are designed to build upon each other each week. The workouts vary in style, blending hypertrophy and strength training to make you a well-rounded athlete with a super fit body.
You will also receive weekly, detailed nutrition lessons to educate you on proper fat loss nutrition.
Once enrolled, you will get access to the WLW community and have the option to add on an additional macro consultation from inside your WLW portal.

What is the difference between BASIC and VIP?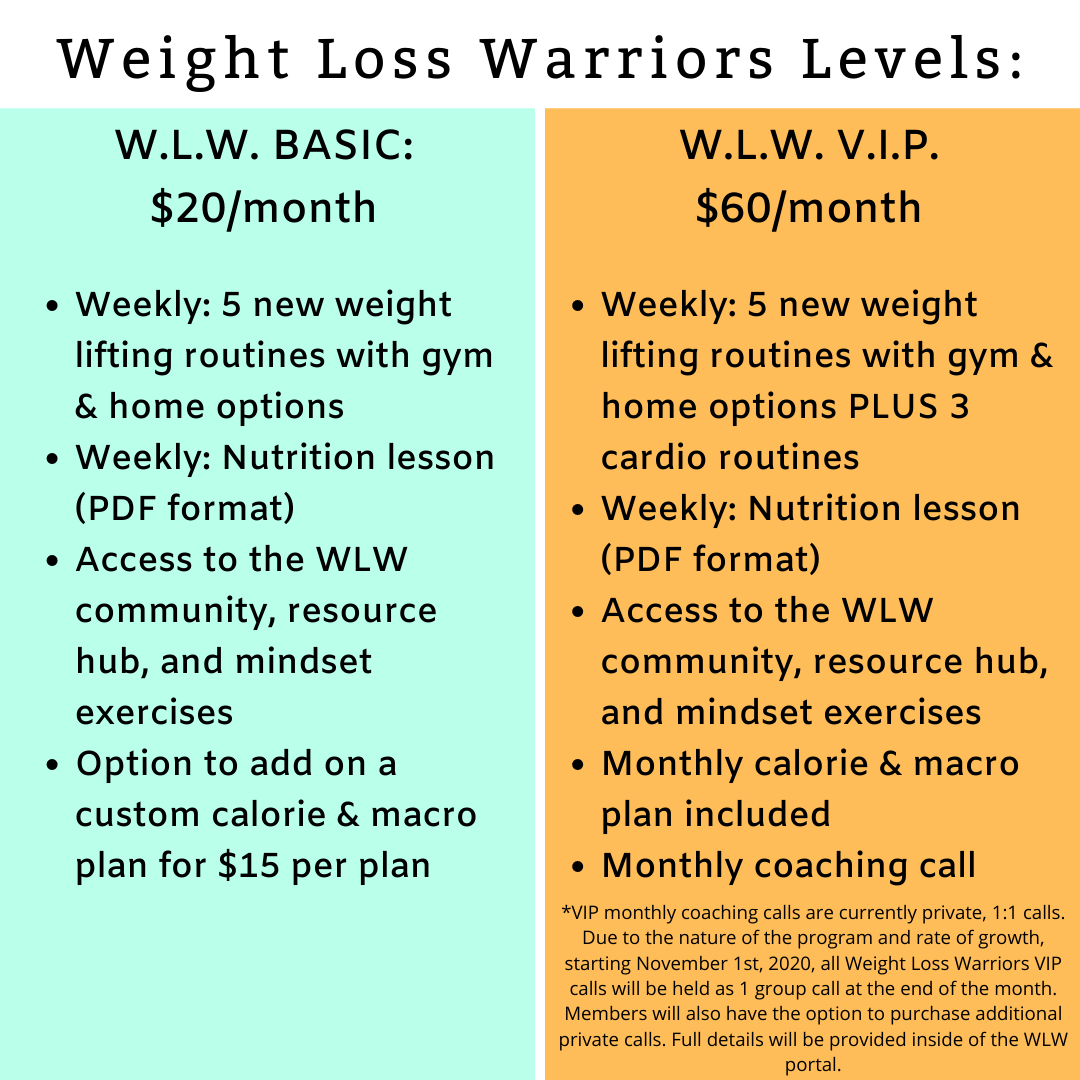 Want to get in the VIP membership? That's the most popular option! Click here.
IMPORTANT NOTES:

WLW is a 6+ month long program. You are encouraged to complete all 6+ months, but you may cancel if needed from your account settings.

If you quit WLW, I have no way of getting you back in on the week you quit at anymore. The software does not allow for this unfortunately, but I am hoping to see that change soon. (For example, if you quit at week 12 and want to join again later, you have to start back at week 1).

You will only have access to your WLW portal while your membership is active

I continuously add to the "Resources" section of WLW, check it often to view recommended articles, videos, bonus workouts, workbooks, progress trackers and more

If you desire to change levels (from VIP to basic or vice versa), you will have to start at week 1

To cancel, click into your account and unsubscribe on the 'Manage Subscriptions' page. While I recommend at least 12 weeks for a noticeable transformation that sticks, you are free to cancel your membership at any time.

You can purchase a one time macro consultation from inside your WLW course portal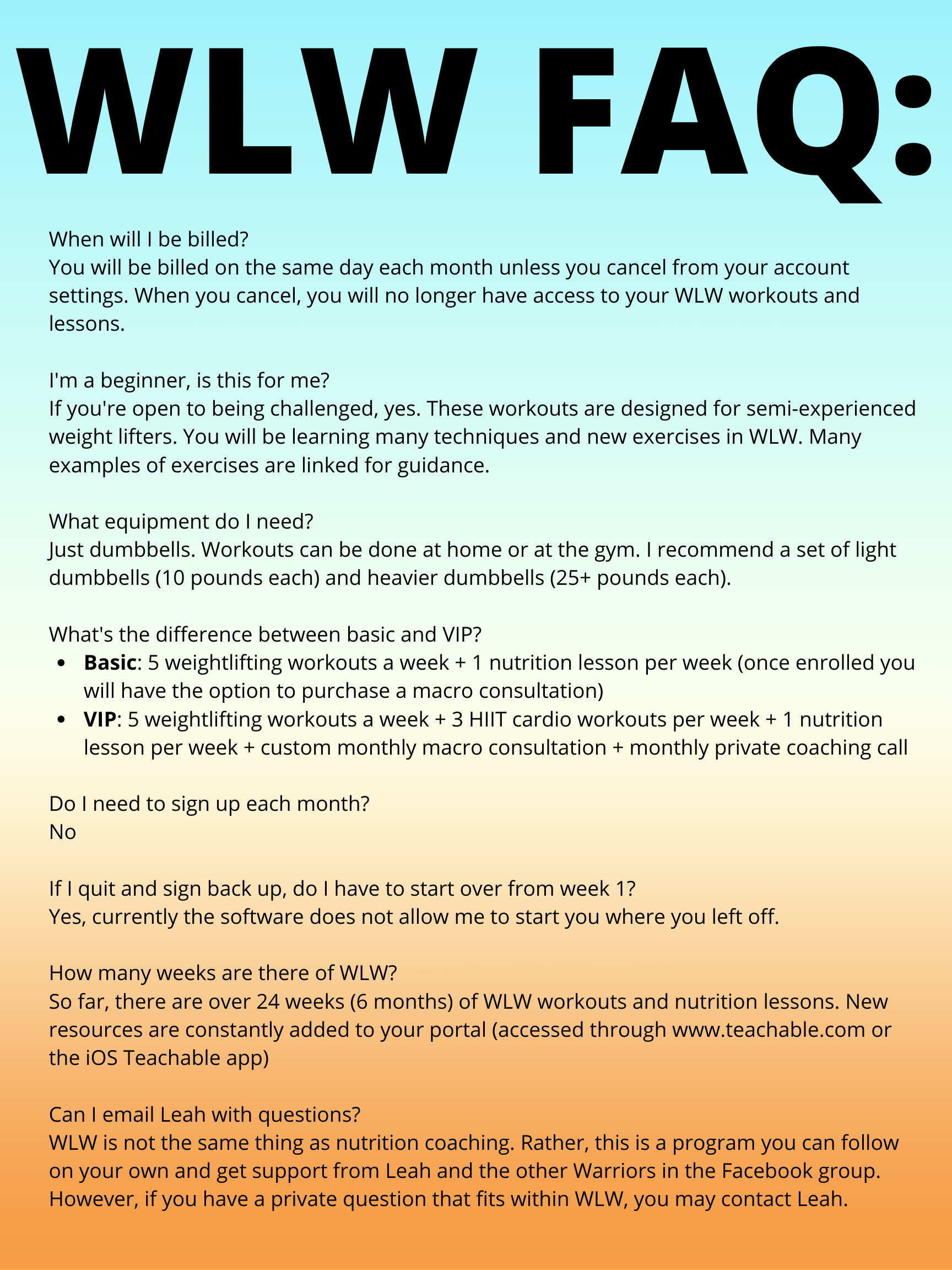 Your Instructor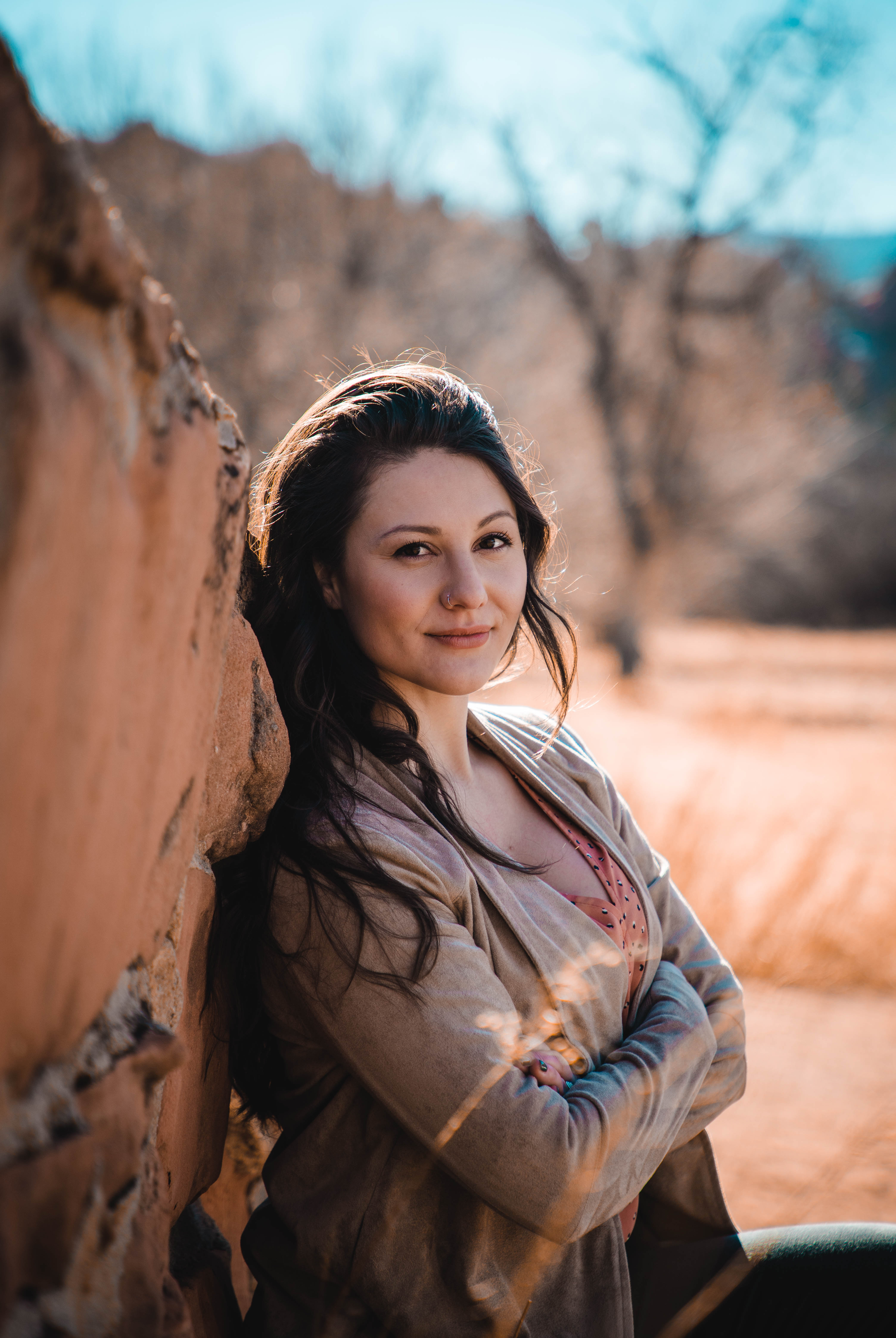 Hey there! My name is Leah Peters. I am an 8 year certified nutrition coach coach, retired national fitness competitor, and personal trainer. I am a fat loss expert who specializes in teaching people how to stop restrictive, yo-yo diets and fuel their metabolism for consistent fat loss. I use research and science-backed techniques to turn you into a fat loss machine without losing your mind! I coach others through their weight loss journeys and empower individuals with the knowledge, support and motivation they need to succeed in fitness and diet. I have coached thousands of men and women since 2012 to achieve their dream bodies, skyrocket their confidence, and gain a true understanding of training and nutrition!
-Leah
IG: @Leahpetersfitness
Host of Health, Wealth, and Your Best Self Podcast on Apple Podcasts & Spotify
Course Curriculum
Welcome! Everything You Need To Know
Available in days
days after you enroll
RESOURCE HUB✔
Available in days
days after you enroll
Week 1 - Start Here!
Available in days
days after you enroll

Leah has really transformed me, physically and mentally. She is very involved and informative Since the day I signed up for WLW. I feel supported constantly. She's like the voice on my shoulder routing for me to be the best version of myself. When I am in doubt she asks the right questions and guides me to understand it's a process and helps me focus on the things that matter, aka not always the scale. I've seen massive changes in my body. The workouts she provides are challenging and always changing. I never get bored. I signed up with WLW because I was at a point in my life where I needed to become excited about helping myself be better and I knew I couldn't do it alone. This is my second time working with Leah, and I couldn't stress enough that she is there to help transform you to be a happier, healthy version of yourself. She is realistic and gives you lots of tools to grow and learn. I'm grateful she made this program.
-Krystle K.

Joining WLW has been the best decision! I used to go to the gym to just do cardio and attempt to do some weights, but I was so lost. Not knowing what I was doing made me skip on work outs and have little to no progress. Now, I walk into the gym with a purpose and am more motivated to stick to my work outs weekly. My apple watch activity log is full of closed circles since I joined! I LOVE working with Leah. She is a great source of tips and knowledge, always encourages me (even when I slip up), and the communication throughout the program has been incredible. I've gotten way more out of WLW than I ever thought I would and can't imagine not continuing my membership. 100% recommend!
-Wicha Valdes

I absolutely love weight loss warriors. It's perfect for my busy schedule, and it really helps me get motivated to go to the gym. I have learned a lot through this program.
-Alexis Smith
Frequently Asked Questions
How do I access my workouts?
Every 7 days you will receive an email letting you know your next week of workouts is available in the course portal. You may download these workouts for lifetime access. Please do not redistribute these workouts.
What if I have an injury and cannot do a specific exercise?
Each exercise comes with a second option for a modification.
Can I start if I'm new to the gym? Or if I haven't been working out for a long time?
Absolutely! And weight loss warriors I provide links in an exercise database so that you can get demonstrations on all moves. I also walk you through proper sets and reps so you can learn how to lift in the best way possible.
How long do the workouts take?
If you move quick, as recommended, each workout will take about 45 minutes with weightlifting. It is up to you or your personal cardio recommendations to do additional cardio afterwards.
Is Weight Loss Warriors for you? Let's find out!

Weight Loss Warriors is perfect for you IF:
You want an effective, easy to follow workout plan.

You're tired of bailing on the gym because you don't have plan that motivates

You can stay accountable on your own.

You like to learn new exercises and workout styles so you can mix it up any time you want.

You want to learn more about nutrition, dieting, and training for weight loss. You're tired of googling and just want direct answers and helpful advice from an experienced lifter and fat loss coach.

You want to lose weight in a healthy manner, while also toning your muscles and getting a lean, muscular body. You want to define and strengthen your abs, glutes, legs, and upper body.

You want a customized macro program to follow for your body, goals, and lifestyle. You aren't sure how much you should be eating to hit your goals and want some guidance with dieting.
Weight Loss Warriors IS NOT for you if:
You want daily or weekly accountability and check ins (see nutrition coaching). You want a little more one-on-one support to make sure you're on track with your diet and workouts every day.
You want help creating an ideal, macro-friendly meal plan with your favorite foods (see nutrition). You don't really know what exact foods and portion sizes to eat to hit your daily targets.

You want customized workouts to tailor to injuries, pregnancy, or special requests (please message me for this). You want personalized workouts with more accountability check ins, program tweaks, and tailored cardio programming.
If you have any other questions, please do not hesitate to email me: [email protected]
So, are you ready to re-commit to your fitness goals and get help losing those last ten pounds? With my workouts, macro plans, and support, the results are inevitable!